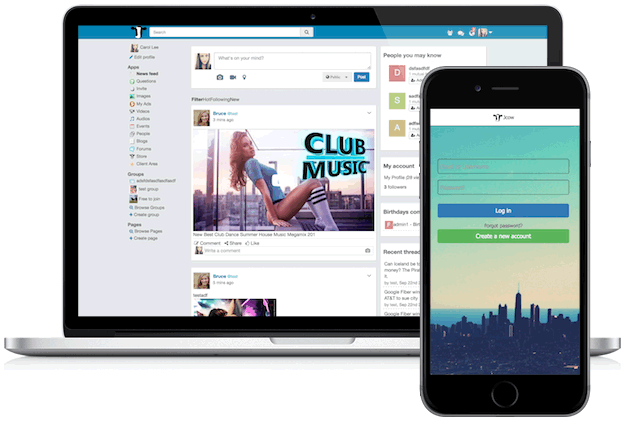 The best script to make your own social networking website
Jcow is a social networking script written in PHP, helps to make your own niche social network and online community.
Key Features
White Label
100% Source Code
Clean&Friendly UI
Facebook Login
Template/Theme system
Module/Plugin system
Multiple Languages
Roles&Permission control
Google Map integrated
SMTP support
Anti-SPAM
Dynamic Cache
Inline Ads
News Feed
Browse People
Blogs
Images
Videos
Events
Musics
Fan Pages
User Groups
Forums
Questions
Why choose Jcow?
1
Make your own Mobile App
- Besides the cross-platform website design, we made a new UI that dedicated to Mobile Apps. With the new UI you can easily make your own native-like mobile Apps.
2
Handle large traffic
- Our optimized data query and dynamic caching system can greatly lower the CPU/memory/disk load and speed up your website.
3
Free Addons
- You can access our community-based store and free download all the official modules including "Forums", "Questions" and more.
4
Post Boosting system
- Your members can boost their post by paying money to you. Higher bid get higher priority.
5
Deeply Google Map integrated
- Based on locations, your members can find local friends, Create/Join local groups, Create/Join local events.
6
URL preview in Share box
- Automatically generate a preview when pasting a URL that supports
Open Graph
protocol.
7
Adsense Optimized
- Possible to let Google Adsense Crawler to see the same thing that a user seen, and then display targeting ads
8
We use our own product
- We are not making something that just looks good. As you can see, Our
official community
is powered by Jcow, so we seriously care about the security, performance, user experience and everything about our script (and yours).
9
User and Group suggestions
- You can set some featured users and groups that will be recommended to new members.
10
Cross-platform Chat box
- Our IM system support desktop browser, mobile browser and mobile Apps.