Template system
You can choose from our free themes or easily make your own.
We provide several free cool themes for you.
If you know HTML/CSS, you can easily make your own theme.

Free download All Jcow Modules/Apps
Ultimate Edition users can Free download ALL modules/apps from Jcow store.
Modules/apps and themes
100% Source Code
Our team will continue adding new modules/apps, and will always free download.
Jcow Store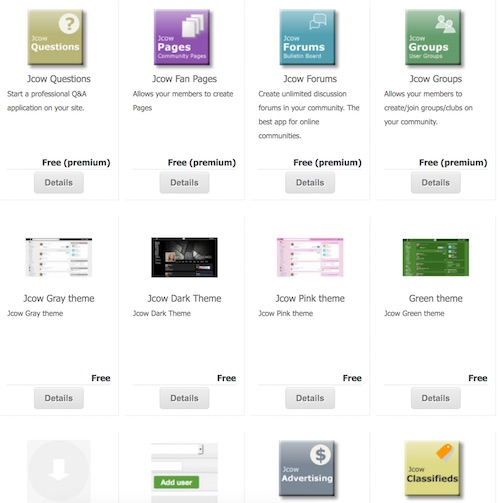 Link preview in share box (new)
Automatically generate a preview when paste a URL into status.
Share Box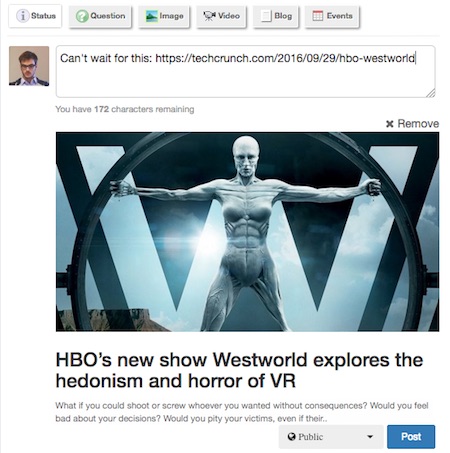 Grabs the title, description and image from any URL that support
Open Graph
Using Yahoo! YQL API to avoid exposing your server IP address.
Boost Post (new)
Allows your members pay to boost their public post.
Users can set Budget and Bid for each of their boosts.
Higher bid get higher priority to be displayed.
You can set minimum bid per 1000 views (CPM).
Your members send money to your Paypal account.
Boosting post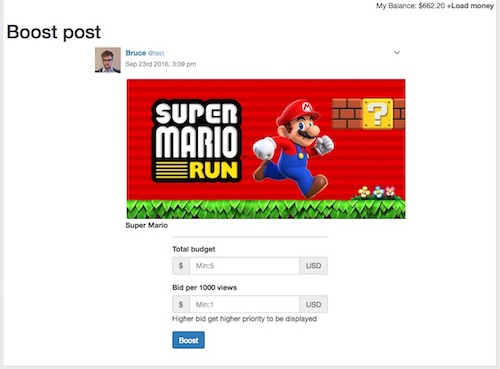 Jcow Instant Messages
Allows your members to live chat with each other.
Chat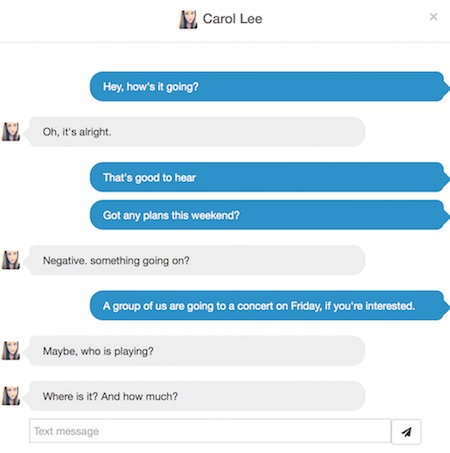 Built-in module, easy to enable/disable
Optimized for Desktop and Mobile.
Low server load.
Members can choose to allow message from "Everyone" or "Friends only".
Jcow Questions
Allows your members to ask/answer questions.
Browse recent questions or "unanswered" questions.
Answer voting system - higher voting get higher position.
Comments on answers.
Answer support Markdown formatting.
Questions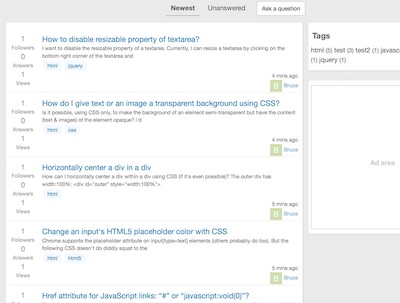 Answer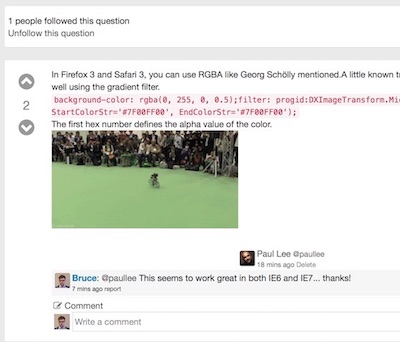 Jcow Forums
A powerful forum system for your community.
Unlimited categories&forums.
General threads and Poll threads.
Moderators for each forum.
Permission control based on user role.
Permission control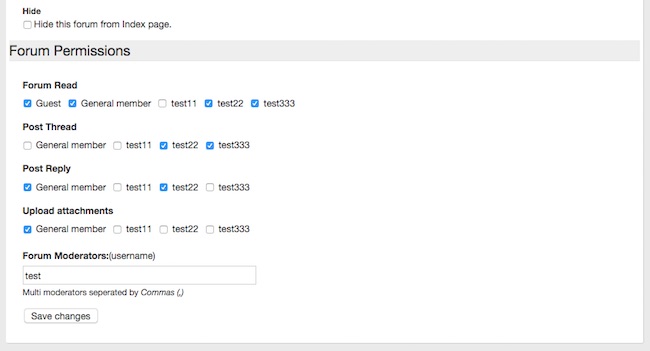 Forums home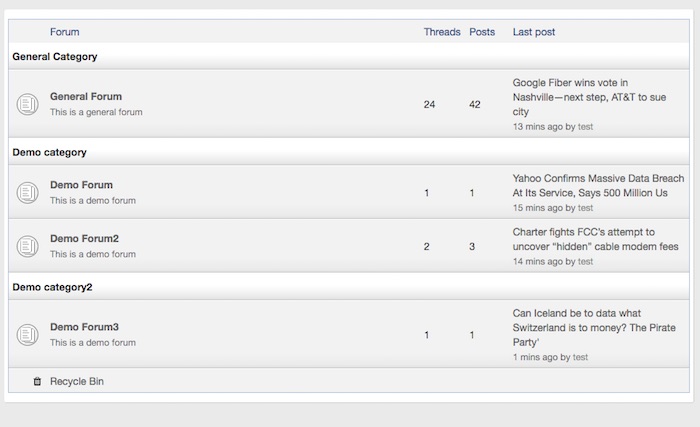 Jcow Images
Allows your members to share images.
Image gallery.
Image album.
Image privacy - users can share "friends only" images.
Image gallery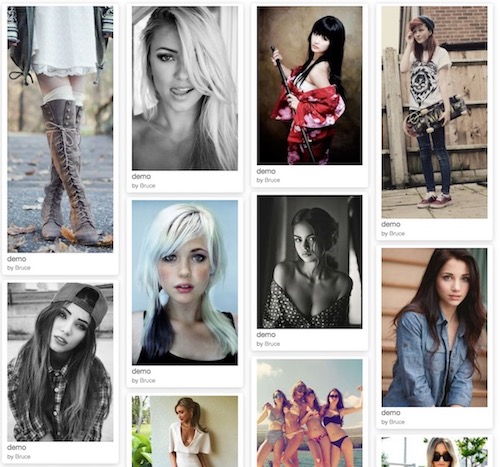 Jcow Blogs
Allows your members to share blogs.
Blogs listings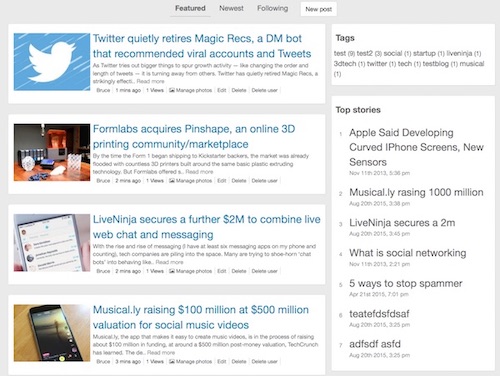 User blogs and Fan Page blogs.
Support markdown formatting.
Multiple Tags.
Multiple images.
Featured stories.
Recommended stories based on likes.
Top stories.
Jcow Videos
Allows your members to share videos.
Support both Youtube and Local upload video.
Automatically parse Youtube video from stream content.
You can limit Local upload video size in js.
Viewing video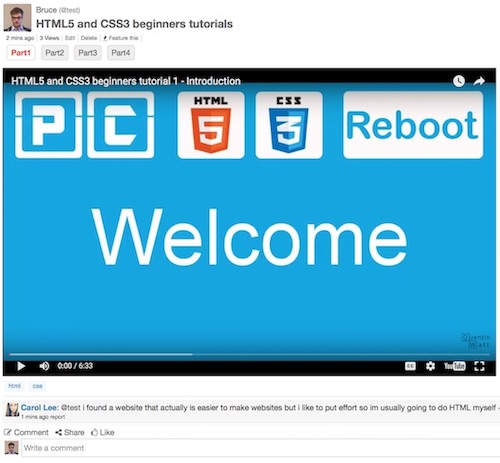 Jcow Fan Pages
Allows your members to Create/Like Fan Pages.
Fan Page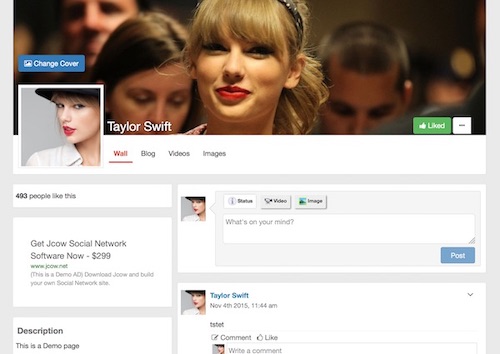 Members can create Pages and share status, images, videos, blogs.
Members can follow Pages and get news feed from their homepage.
Jcow Groups
Allows your members to Create/Join Groups.
Status, images, videos, events.
Group owner can manually approve each new group member.
Support "Local Group" creation and browse.(integrated with Google map)
Group page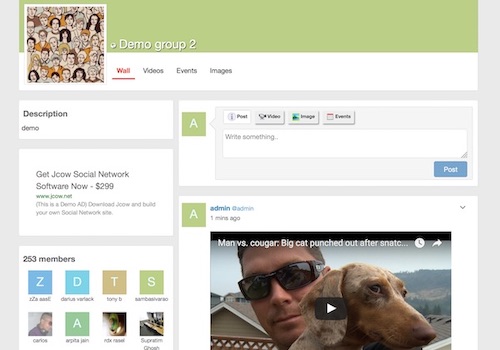 Jcow Events
Allows your members to create/join events.
Google map integrated.
List events hosted by friends and joined groups.
List nearby events.
Support private group events
List events
Viewing an event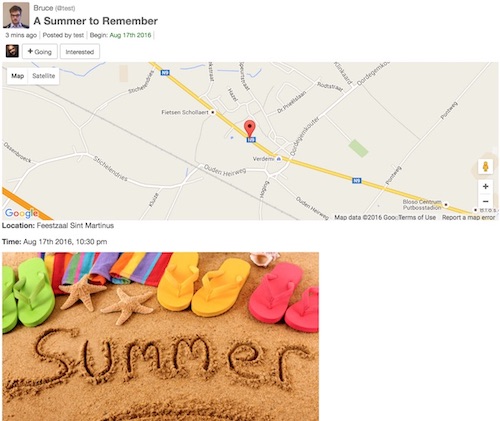 More reasons to choose Jcow
Simple but Powerful News Feed

From the Newsfeed page, users can view streams from friends, followed Pages, and joined Groups.
Inline Ad blocks
Get rid of the Ugly banners that making low click rate and poor user experience. Using our new designed intelligent inline-ads to get your members satisfied and get more money.
Adsense Optimized

Google Adsense is the most efficient way to monetize your site. But Adsense is not friendly to member-only pages or dynamic pages. Jcow makes it possible that Adsense can see the same thing that a user seen, and then display targeting ads. This feature will highly increase your revenue.
Multi-language support
You can translate Jcow to whatever language you want.
Full Control

You get 100% Source Code

You can change it.

Module-based

You can easily enable/disable Jcow modules by clicks.

Template Engine

If you know HTML/CSS, you can change the theme(LOGO,layout,colors,..) by editing the Template files.
Intelligent Caching

On a social networking website, a single page generally run many SQL queries. Too many SQL queries slower the website performance. So we developed the "Intelligent Caching system" to reduce the amount of SQL queries.

The system will automatically cache high-load pages and make them performance super-fast.
Community Guard

Integrated online SPAM checker stop spammers from signing up.

Integrated reCaptcha stop bots.

Limit registrations per IP address.

Jcow system is monitoring/limiting susceptible acts behind you. (Example: if someone is attempting sending too many posts, he will be stopped automatically.)